Gravlax - Cured salmon with dill, akvavit and caraway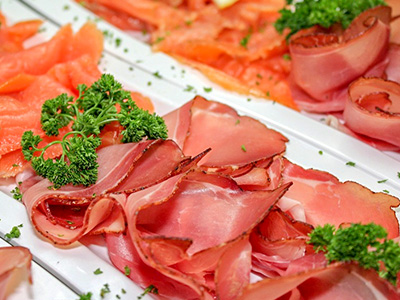 Our recipe for Cured salmon with dill, akvavit and caraway is scrumptious!
Ingredients:
3½ Pounds salmon fillet; skin-on
½ ounce 1 cup fresh dill...leaves picked...reserve stems
4 ounces kosher salt
4 ounces sugar
1 tablespoon fresh ground black pepper
½ teaspoon curing salt
1½ ounces akvavit or 1½ oz. of gin with 1 tbl. Crushed caraway
Directions:
Remove any pin bones and excess fat from salmon fillet.
Lay reserved dill stems in a 202 hotel pan.
Mix together the salt, sugar, pepper and curing salt.
Moisten salmon fillet with akvavit

and sprinkle each side with fresh dill leaves.

Coat liberally each side of salmon with salt mixture.

Lay salmon in hotel pan upon the dill stems.

Cover salmon fillet with a piece of parchment paper and another same size hotel pan.

Weight with 2 1/2 pounds ( large cans of tomato etc.).

Place in refrigerator. Turn salmon fillet daily for four days.

Test texture and oil content of salmon fillet before serving.

To serve, very quickly rinse fillet, and wipe off excess brine.

Slice paper thin, on a bias.

Serve 2 1/2 oz. per serving with a Danish mustard sauce, and marinated cucumbers.
Recipe By: