New Orleans Restaurant Guide
Browsing:

Live Music Restaurants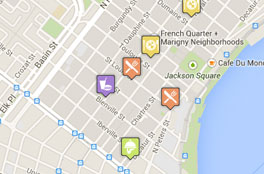 Live music isn't hard to find in New Orleans. From blues to jazz to rock and roll, you can catch live performances on any night of the week. If you want to hear authentic jazz music, then you've come to the right place. New Orleans is known as the birthplace of jazz, and it's around every corner.
So put on your dancing shoes. We've put together a list of the best places to catch live music in the city. Pick one of these spots and settle in for a night of entertainment, or keep the party rolling by trying them all. Either way, you'll be happy with these selections.
Pricing:
Cajun | Po-boys/sandwiches | Seafood
The restaurant that made Cajun Culture famous with authentic Cajun cuisine. It's a perfect place to see the Mardi Gras parades, it's located right on the parade routes and have all inclusive packages.
Pricing:
American | Variety
Takeout & Delivery
Located on the corner of Bourbon and Iberville Street, Hard Rock Cafe New Orleans offers rock star service and a unique environment for your dining experience!
Enjoy a festive Brunch at the picturesque Court of Two Sisters. Dinner features a four-course dinner and an a la carte menu, is also a wonderful French Quarter experience.
Pricing:
American | Creole | Seafood
Takeout & Delivery
Coupon
Located in JAX Brewery in the world-famous Vieux Carré, Landry's Seafood House offers Gulf-to-table seafood with sweeping views of the Mississippi River and Jackson Square. For an authentic, one-of-a-kind New Orleans experience, drop anchor at Landry's.
Pricing:
Breweries | Cajun | Creole
The Crescent City Brewhouse serves amazing beer and great food. It is the only microbrewery in the French Quarter, and you'll enjoy sampling their portfolio in the warm, relaxed atmosphere. Immerse yourself in live, local culture with jazz performed nightly by New Orleans musicians.
Pricing:
American | Cajun | Creole | Seafood
Takeout & Delivery
Since the 1940s, Felix's has been a New Orleans institution, serving only the freshest Louisiana oysters they could get their hands on. Bienville, Rockefeller, raw, chargrilled…no matter how you like 'em, they got 'em at Felix's. View our 2023 Summer Menu
Pricing:
Creole | Sunday Brunch
The Riverboat CITY of NEW ORLEANS, sister vessel to the Steamboat NATCHEZ, is about to go into the history books as the newest floating palace on Old Man River. Like New Orleans riverboats of old, the cuisine will be magnificent, the music soul-stirring, and the adventure one you will remember for a lifetime.
Pricing:
American | Po-boys/sandwiches | Variety
Eat, drink and golf at Loft18, the premier indoor golf and social club in the New Orleans area. In between swings, kick back in the bar or grab a bite in the Loft18 restaurant. Choose from menu items, both innovative and classic, designed by Chef Jaclyn Whitman.
Pricing:
American | Creole | Seafood
Takeout & Delivery
Coupon
Landry's Seafood House at the Lakefront is the perfect spot to get your fill of fresh New Orleans seafood. And, like their French Quarter location overlooking Jackson Square and the Mississippi River, the view is fantastic. Come grab yourself a seafood platter and a sunset over the lake.
Pricing:
Cajun | Creole
Takeout & Delivery
An authentic Creole and Cajun restaurant in the French Quarter, Iberville Cuisine has an exciting & welcoming atmosphere with an extensive menu.
Back to top