New Orleans Restaurant Guide
Browsing:

World Famous Restaurants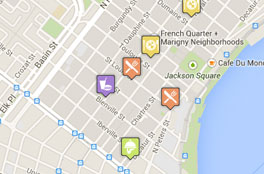 The Crescent City is a town rich in history and culture. Full of famous landmarks, celebrity chefs and most importantly, world famous restaurants. Whether you are looking to dine on char-grilled oysters or feast on juicy po-boys, the world-renowned restaurants of New Orleans have something to offer everyone. From fine dining to casual eats, you are sure to have a memorable dining experience!
Pricing:
Creole | Jazz Brunch
Takeout & Delivery
A favorite for visitors and locals alike, Commander's Palace is a New Orleans landmark known for its award-winning Creole fare and elegant jazz brunch.
Galatoire's
Pricing:
Creole | French | Seafood | Variety
For more than a century, there's been a long line outside Galatoire's, the most famous restaurant on one of the world's most famous streets (Bourbon). Like the city itself, Galatoire's is a restaurant that combines elegant with raucous. From the Soufflé Potatoes appetizer followed by Black Drum topped with Jumbo Lump Crabmeat to Carmel Cup Custard and a cup of Flaming Café Brûlot, this is an experience not to be missed.
Emeril's
Pricing:
American | Creole | French | Seafood | Steakhouses
One bite of Barbecued Shrimp from Emeril's New Orleans and your taste buds will go, "Bam!" (There, we got it out of the way). Emeril's flagship restaurant in the New Orleans Warehouse/Art District has been a must-experience foodie destination since 1990. As for originality, let's just say if Emeril's was one of those restaurants where you're allowed to color the menus, this team would color outside the lines. Tip: Save room for the banana cream pie.
Brennan's
Pricing:
Breakfast | Contemporary | Creole
Enjoy the rebirth of this iconic New Orleans restaurant featuring traditional New Orleans French and Spanish influenced cuisine infused with newfound Vietnamese cultural contributions for a unique and distinctly lighter style.
Back to top