New Orleans Restaurant Guide
Browsing:

Oyster Bars Restaurants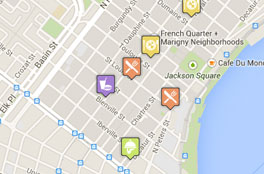 It doesn't matter if they're raw, fried or charbroiled, New Orleans loves its oysters, and it has plenty of them. If you're craving oysters on a half shell, then give these shuckers a shot. Watch professional oyster shuckers behind the bar and fast at work. Some restaurants serve the oysters buffet-style on ice, while others bring them to your table as soon as they're free from the shell. Just drop them on a cracker and add a little spice, and you'll understand why these oyster bars are considered the best in the city.
Pricing:
Cajun | Creole | Seafood
Call us crazy, but we think your taste buds should have fun on Bourbon Street, too! Take a break from the crowd below and head up to Mambo's, home to the only rooftop terrace on Bourbon and some of the best Cajun and Creole food you'll find anywhere.
Pricing:
Po-boys/sandwiches | Seafood
The pearl of New Orleans' restaurants, Acme Oyster House invites area residents and visitors to enjoy its marvelous ambiance, fresh seafood from Louisiana waters, and local charm. Five locations, including the French Quarter, Metairie and the Northshore.
Pricing:
Breakfast | Cajun | Creole | Seafood
Steps from Bourbon Street, Oceana Grill's authentic Creole and Cajun delicacies, offers satisfaction for breakfast, lunch and dinner. Along with classic New Orleans dishes you have to try, their chefs can get pretty inventive (try the Redfish Oceana). And we think every meal at Oceana should be kicked off with a dozen raw oysters although some just can't say no to the Gator Tail Bites.
Pricing:
Italian | Seafood | Steakhouses
Lobster fra Diavolo, Veal Piccata, Braciole…That's amoré! That's Rizzuto's Ristorate & Chop House, making new memories in the former home of Tony Angello's Ristorante in Lakeview.
Pricing:
Po-boys/sandwiches | Seafood | Variety
In a town famous for great seafood, it's in a class by itself. Located in Metairie, Uptown, and the French Quarter, Deanie's has been recognized as one of New Orleans' best seafood joints since 1961.
Pricing:
American | Cajun | Creole | Seafood
Since the 1940s, Felix's has been a New Orleans institution, serving only the freshest Louisiana oysters they could get their hands on. Bienville, Rockefeller, raw, chargrilled…no matter how you like 'em, they got 'em at Felix's. View our 2023 Summer Menu
Pricing:
American | Creole | Seafood
Located in JAX Brewery in the world-famous Vieux Carré, Landry's Seafood House offers Gulf-to-table seafood with sweeping views of the Mississippi River and Jackson Square. For an authentic, one-of-a-kind New Orleans experience, drop anchor at Landry's.
Pricing:
Creole | Po-boys/sandwiches | Seafood
For generations, The French Market Restaurant & Bar has been serving fresh Louisiana seafood and ice cold drinks to visitors and natives alike. Their balcony offers one of the best views of the Vieux Carré. Come experience it!
Pricing:
American | Creole | Seafood
Landry's Seafood House at the Lakefront is the perfect spot to get your fill of fresh New Orleans seafood. And, like their French Quarter location overlooking Jackson Square and the Mississippi River, the view is fantastic. Come grab yourself a seafood platter and a sunset over the lake.
Pricing:
Po-boys/sandwiches | Seafood | Variety
Located on the Fulton Street mall in the Warehouse District, Grand Isle serves seafood straight from local Gulf fisheries. With a wide range of freshly caught specialties, including an award-winning Shrimp Caminada po-boy, Grand Isle is a great spot to kick back and enjoy authentic New Orleans seafood dishes.
Pricing:
Cajun | Creole | Seafood
Cooked by Locals, spiced with history - Cajun and Creole Cookin' on Bourbon Street, in the heart of the French Quarter, with the emphasis on serving delicious and authentic local dishes.
Pricing:
Breweries | Cajun | Creole
The Crescent City Brewhouse serves amazing beer and great food. It is the only microbrewery in the French Quarter, and you'll enjoy sampling their portfolio in the warm, relaxed atmosphere. Immerse yourself in live, local culture with jazz performed nightly by New Orleans musicians.
Back to top