New Orleans Restaurant Guide
Browsing:

Metairie / Lakeview Restaurants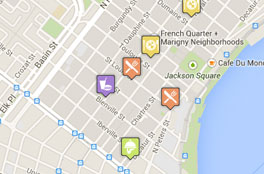 The first suburb of New Orleans and the largest community in Jefferson Parish, Metairie is located on the south shore of Lake Pontchartrain, approximately 10 minutes from the New Orleans French Quarter. Many visitors to New Orleans stay in Metairie since it is so close to everything.
Located between the New Orleans airport and the center of the city, you will find many locals eating at all of the below favorites. If you're driving into town or on your way from the airport, stop off in Metairie and enjoy the food the locals love!
Pricing:
Cajun | Creole | Soul Food
Tucked away on Causeway Boulevard in Metairie, just a short drive from New Orleans, Gumbo Stop features comfort food using locally grown ingredients for a delicious and refreshing taste. The restaurant serves freshly made award-winning gumbo daily along with other New Orleans favorites such as po' boys and red beans and rice.
Pricing:
American | Po-boys/sandwiches | Variety
Eat, drink and golf at Loft18, the premier indoor golf and social club in the New Orleans area. In between swings, kick back in the bar or grab a bite in the Loft18 restaurant. Choose from menu items, both innovative and classic, designed by Chef Jaclyn Whitman.
Pricing:
Greek/Mediterranean
Byblos is a Greek style restaurant that stands with their largest section of lamb dishes in New Orleans that includes items from chops to kabobs. Their fresh, house-made hummus, shawarma and seafood dishes are also must try's.
Porter & Luke's offers an authentic menu with fresh ingredients. From Fried Green Tomatoes and Shrimp Remoulade to Cowboy Ribeye and Fettuccini Alfredo, there's nothing this restaurant doesn't make well.
Pricing:
Italian | Seafood | Variety
New Orleans' world-renowned gold medal winner, Chef Andrea combines Louisiana products with Northern Italian cuisine to create a memorable dining experience. A favorite among locals. Located in Metairie, 10 minutes from the French Quarter.
Pricing:
Italian | Seafood | Steakhouses
Lobster fra Diavolo, Veal Piccata, Braciole…That's amoré! That's Rizzuto's Ristorate & Chop House, making new memories in the former home of Tony Angello's Ristorante in Lakeview.
Pricing:
American | Contemporary | Creole
Bobby Hebert's Cajun Cannon, is unlike any other sports-themed restaurant. By combining Louisiana sports culture and authentic Louisiana food culture, Bobby created a venue that appeals to sports fans and foodies alike.
Pricing:
Breakfast | Cajun | Creole | Seafood
Your taste buds will take off at the Runway Café, inside the historic Terminal building at the restored art-deco style New Orleans Lakefront Airport.
Back to top