New Orleans Restaurant Guide
Browsing:

CBD / Convention Center Restaurants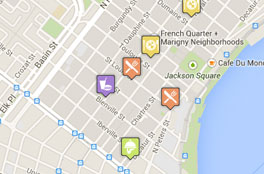 The area including the New Orleans Ernest Morial Convention Center, the cruise ship terminal, Mercedes Benz Superdome, & Smoothie King Center is adjacent to the Mississippi River and also encompasses our Arts & Warehouse District and nearby Central Business District (CBD).
Restaurants located in this area include many local favorites. There are plenty of places to shop or stroll through the arts district and enjoy many of the local galleries before you head out to dinner or lunch at any of the below restaurants!
Pricing:
Cajun | Po-boys/sandwiches | Seafood
The restaurant that made Cajun Culture famous with authentic Cajun cuisine. It's a perfect place to see the Mardi Gras parades, it's located right on the parade routes and have all inclusive packages.
Pricing:
American | Po-boys/sandwiches | Seafood
New Orleans has more than centuries-old restaurants – we've got game! Come eat all your favorite foods, drink craft cocktails or beer, and play all your favorite '80s arcade games at Barcadia in the Warehouse District. And you thought Bourbon Street was fun!
Pricing:
American | Creole
Indulge in our beautifully renovated and new Clarinet Bistreaux featuring new menus; allow us to tantalize your taste buds with an innovative fusion of traditional New Orleans cuisine and American comforts! Breakfast, Lunch and Dinner are served in true Big Easy fashion- with a side of Southern hospitality!
Pricing:
Variety | Vegetarian
Located in the Central Business District, Carmo is a tropical restaurant with a focus on healthy, affordable dishes for vegans, vegetarians and even meat eaters in a friendly and casual environment.
Pricing:
Po-boys/sandwiches | Seafood | Variety
Located on the Fulton Street mall in the Warehouse District, Grand Isle serves seafood straight from local Gulf fisheries. With a wide range of freshly caught specialties, including an award-winning Shrimp Caminada po-boy, Grand Isle is a great spot to kick back and enjoy authentic New Orleans seafood dishes.
Back to top