New Orleans Restaurant Guide
Browsing:

Casual Fine Restaurants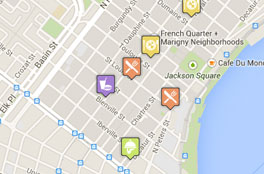 A dash of casual and a splash of fine dining, casual fine restaurants are some of New Orleans most traditional-styled eateries for the casual tourist. Offering high-quality foods and services within a more casual atmosphere, the restaurants below are a great selection for all occasions.
Pricing:
Creole | Seafood | Variety
The Pelican Club is a "new classic" New Orleans restaurant offering a rich variety of fresh fish and seafood and prime beef, inspired by southern tradition and reimagined by chef/owner, Richard Hughes. Diners are welcomed in everything from blue jeans to ball gowns in this 19th-century French Quarter townhouse.
Pricing:
Greek/Mediterranean
Byblos is a Greek style restaurant that stands with their largest section of lamb dishes in New Orleans that includes items from chops to kabobs. Their fresh, house-made hummus, shawarma and seafood dishes are also must try's.
Pricing:
Variety | Vegetarian
Located in the Central Business District, Carmo is a tropical restaurant café with a focus on healthy, affordable dishes for vegans, vegetarians and even meat eaters in a friendly and casual environment.
Pricing:
American | Cajun | Creole | Seafood | Sunday Brunch
Houmas House doesn't feel like a museum but rather a grand old home – and that hospitality extends to meal time. You can dine at your choice of Café Burnside, The Carriage House and Latil's Landing, and enjoy a cool libation or a glass of wine at the Turtle Bar and the Wine Cellars. There's nothing like it on the Great River Road. And it's all just an hour from New Orleans!
Enjoy a festive Brunch at the picturesque Court of Two Sisters. Dinner features a four-course dinner and an a la carte menu, is also a wonderful French Quarter experience.
Pricing:
Italian | Seafood | Steakhouses
Lobster fra Diavolo, Veal Piccata, Braciole…That's amoré! That's Rizzuto's Ristorate & Chop House, making new memories in the former home of Tony Angello's Ristorante in Lakeview.
3rd Block Depot Kitchen + Bar offers Cajun and Creole cuisine for lunch and dinner, and a fabulous Burlesque Sunday Brunch!
Back to top