New Orleans Restaurant Guide
Browsing:

Casual Fine Restaurants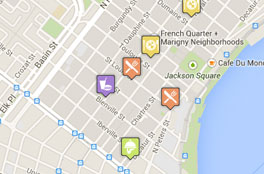 A dash of casual and a splash of fine dining, casual fine restaurants are some of New Orleans most traditional-styled eateries for the casual tourist. Offering high-quality foods and services within a more casual atmosphere, the restaurants below are a great selection for all occasions.
Pricing:
Variety | Vegetarian
Takeout & Delivery
Located in the Central Business District, Carmo is a tropical restaurant with a focus on healthy, affordable dishes for vegans, vegetarians and even meat eaters in a friendly and casual environment.
Pricing:
Greek/Mediterranean
Takeout & Delivery
Byblos is a Greek style restaurant that stands with their largest section of lamb dishes in New Orleans that includes items from chops to kabobs. Their fresh, house-made hummus, shawarma and seafood dishes are also must try's.
3rd Block Depot Kitchen + Bar offers Cajun and Creole cuisine for lunch and dinner, and a fabulous Burlesque Sunday Brunch!
Pricing:
Creole | Seafood | Variety
Takeout & Delivery
The Pelican Club is a "new classic" New Orleans restaurant offering a rich variety of fresh fish and seafood and prime beef, inspired by southern tradition and reimagined by chef/owner, Richard Hughes. Diners are welcomed in everything from blue jeans to ball gowns in this 19th-century French Quarter townhouse.
Pricing:
Italian | Seafood | Steakhouses
Takeout & Delivery
Lobster fra Diavolo, Veal Piccata, Braciole…That's amoré! That's Rizzuto's Ristorate & Chop House, making new memories in the former home of Tony Angello's Ristorante in Lakeview.
Enjoy a festive Brunch at the picturesque Court of Two Sisters. Dinner features a four-course dinner and an a la carte menu, is also a wonderful French Quarter experience.
Pricing:
American | Cajun | Creole | Seafood | Sunday Brunch
Houmas House doesn't feel like a museum but rather a grand old home – and that hospitality extends to meal time. You can dine at your choice of Café Burnside, The Carriage House and Latil's Landing, and enjoy a cool libation or a glass of wine at the Turtle Bar and the Wine Cellars. There's nothing like it on the Great River Road. And it's all just an hour from New Orleans!
Back to top