New Orleans Restaurant Guide
Browsing:

Open Late Restaurants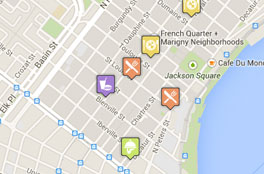 New Orleans takes great pride in its food. Home to fine dining, fantastic seafood and the best Creole and Cajun food in the world, New Orleans has plenty of great places to dine offering full entrées late into the night. We invite you to try any of our recommended restaurants below that serve food after 1 am. Some are even open 24 hours a day for those of you that are hankering for a cup of gumbo at 3 in the morning.
Pricing:
American | Po-boys/sandwiches | Seafood
New Orleans has more than centuries-old restaurants – we've got game! Come eat all your favorite foods, drink craft cocktails or beer, and play all your favorite '80s arcade games at Barcadia in the Warehouse District. And you thought Bourbon Street was fun!
Pricing:
American | Contemporary | Vegetarian
Suis Generis is a Bywater based restaurant. They use fresh, local meat, produce and seafood. Their menu is constantly changing based on what's available and in season.
Pricing:
American | Cajun | Creole | Seafood
Since the 1940s, Felix's has been a New Orleans institution, serving only the freshest Louisiana oysters they could get their hands on. Bienville, Rockefeller, raw, chargrilled…no matter how you like 'em, they got 'em at Felix's.
Pricing:
Breakfast | Cajun | Creole | Seafood
Steps from Bourbon Street, Oceana Grill's authentic Creole and Cajun delicacies, offers satisfaction for breakfast, lunch and dinner. Along with classic New Orleans dishes you have to try, their chefs can get pretty inventive (try the Redfish Oceana). And we think every meal at Oceana should be kicked off with a dozen raw oysters although some just can't say no to the Gator Tail Bites.
Pricing:
Cajun | Creole | Seafood
Call us crazy, but we think your taste buds should have fun on Bourbon Street, too! Take a break from the crowd below and head up to Mambo's, home to the only rooftop terrace on Bourbon and some of the best Cajun and Creole food you'll find anywhere.
Pricing:
American | Variety
Located on the corner of Bourbon and Iberville Street, Hard Rock Cafe New Orleans offers rock star service and a unique environment for your dining experience!
Pricing:
Cajun | Creole | Seafood
Cooked by Locals, spiced with history - Cajun and Creole Cookin' on Bourbon Street, in the heart of the French Quarter, with the emphasis on serving delicious and authentic local dishes.
Back to top