Easter Brunch At New Orleans Restaurants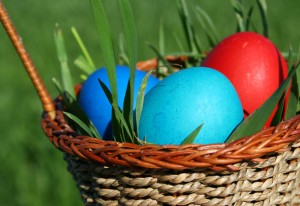 Easter brings with it a number of exciting events to New Orleans.
Of course there's Easter mass at St. Louis Cathedral.
Also, there's the parades. There's not just one parade, there's three! Did you expect anything else from New Orleans? In the morning, there's the Historic French Quarter Parade, the Chris Owens Easter Parade and the Gay Easter Parade in the afternoon.
For the kids, there's an Easter Egg Hunt at New Orleans Museum of Art.
However, what I'm most excited about is the Easter brunches at the restaurants! Here's some of the restaurants offering a brunch this year…
Chef Andrea Apuzzo and his team have cooked up an Easter menu with four course at $46 dollars per person. Entrée options include options like Red Snapper Arriabiata or Long Island Duckling Roasted. For the amount of food that's included on the menu, it looks like a great deal.
Antoine's
Anotine's is offering up a three course brunch for $51 per person. Their entrée choices include a delicious sounding Drum Cardinal or Winifred Pork Medallion. Both sound mouthwatering, but what sounds the best to me right now is Raspberry Chocolate Mousse for dessert. I would definitely save some room for that.
Broussard's
Broussard's has a special meal planned for Easter Brunch. From 11:30 am to 4:30 pm, they're serving up a three course meal for only $42. Highlights include entrees like Eggs Broussard, which is poached eggs on a fried crabcake or you can choose something more hearty like their Grilled veal Medallion with Poached Eggs. Don't forget their bread pudding or bananas foster for dessert!
Grand Isle wants you to celebrate the Easter holiday in true Louisiana style. The put together a number of Easter specials that include Louisiana Bounty, which is two jumbo crab cakes, topped with poached eggs and finished with crawfish hollandaise sauce or the Low Country Breakfast, which includes two poached eggs over Grand Isle's shrimp n' grits.
Suis Generis has a menu that makes me drool. They're cooking up a fabulous roast turkey with ginger-tarragon dressing, Louisiana dirty rice, mirliton casserole and blood orange cranberry sauce. Plus, they'll have their home-made poptarts. Mmmm, home-made poptarts!
If you're thinking of heading out for an Easter Brunch in New Orleans, make your reservations now. You can click the links above to make reservations online. Don't wait too long. Some of the restaurants we reached out to, were already fully booked.
---
Make Restaurant Reservations HereView our Best of Guides