Carnival Concoctions: A Taste of Mardi Gras
January 16 2023 |
What's New
Pretty Please with Purple, Gold and Green Sprinkles on Top.
Believe it or not, eating during Carnival season isn't just about seeing how much red meat you can get in before the start of Lent. And it's not just about devouring pounds of crawfish and fresh Gulf seafood either. It's not just about fried chicken and funnel cakes on the parade route. It's not even just about king cake. While people all over the city are busy decorating shoes, purses, grails, toilet plungers and bras this time of year, New Orleans' best chefs, bartenders and baristas are getting inspired by Mardi Gras, too. Check out these great offerings from some of New Orleans' most festive restaurants.
Cafe Beignet's King Cake Beignets
Who says beignets have to be white? You can wear black – or Mardi Gras colors – when eating these King Cake Beignets from Cafe Beignet. They're on the menu at all locations through Mardi Gras Day so get 'em while they're purple, green, and gold!
Marditini and King's Cocktail from Tito's Ceviche & Pisco Peruvian Cuisine
Get a taste of Mardi Gras in Peru at this awesome restaurant on the St. Charles Avenue Parade route! They're serving wonderful Carnival libations such as the Marditini and the King's Cocktail all season long, and they're also offering special Mardi Gras packages. You can't do better.
Mardi Gras Mambo from Third Block Depot Kitchen + Bar
What do you get when you mix Housemade Vanilla Vodka, Gambino's Rum Cream, Housemade Cinnamon Syrup, and an ounce of Nitro Coffee? Mardi Gras! If you're going to be in the Quarter this Carnival season, you've got to go to 3rd Block Depot Kitchen + Bar and sample this elegant drink.
Chef Meg at Commander's Palace is in a Mardi Gras mood. Don't pass up a chance to try her King Cake Ice Cream made with brioche king cake and praline liqueur.
Commander's Palace Mardi Gras Sidecar
There's always a parade to Commander's this time of year for this delcious and fun cocktail! Throw one down, Mister/Sister!
Clarinet Coffee Shop's Mardi Coconut Frozen Coffee
King Zulu would approve of the Clarinet Coffee Shop's Mardi Coconut Frozen Coffee. Just steps from Canal Street and on the streetcar line in The Holiday Inn Downtown Superdome, they offer all kinds of temping treats during Mardi Gras and all year long. If it's lunchtime, stay for a bowl of gumbo at the Clarinet Bistreaux. One spoonful and you'll never want to leave New Orleans.
Clarinet Coffee Shop's King Cake Coffee
If you looking for something hot and sweet, the Clarinet's King Cake Coffee will do the trick. You won't find a baby but we hope you'll find a moment or two of peace and tranquility during the hectic Mardi Gras season.
Tujaque's Mardi Gras Smash
From the creator of the world-famous Grasshopper, comes the Mardi Gras Smash. Second line to Earth's third-oldest restaurant today for this delightful combination of Bourbon, blackberry syrup, blackberry liquor and lemon juice. In addition to the cocktail, they'll be offering a special Mardi Gras dessert, the Tujague's King Cake Eclair, from February 1 through Fat Tuesday. It's made with candied citrus and spiced chocolate ganache. So decadent!
Loft18's King Cake Churros
Mardi Gras is all about creativity and Loft18 really stepped up with the creation of their King Cake Churros. So good and so fun!
Court of Two Sisters' Moon Pie Cocktail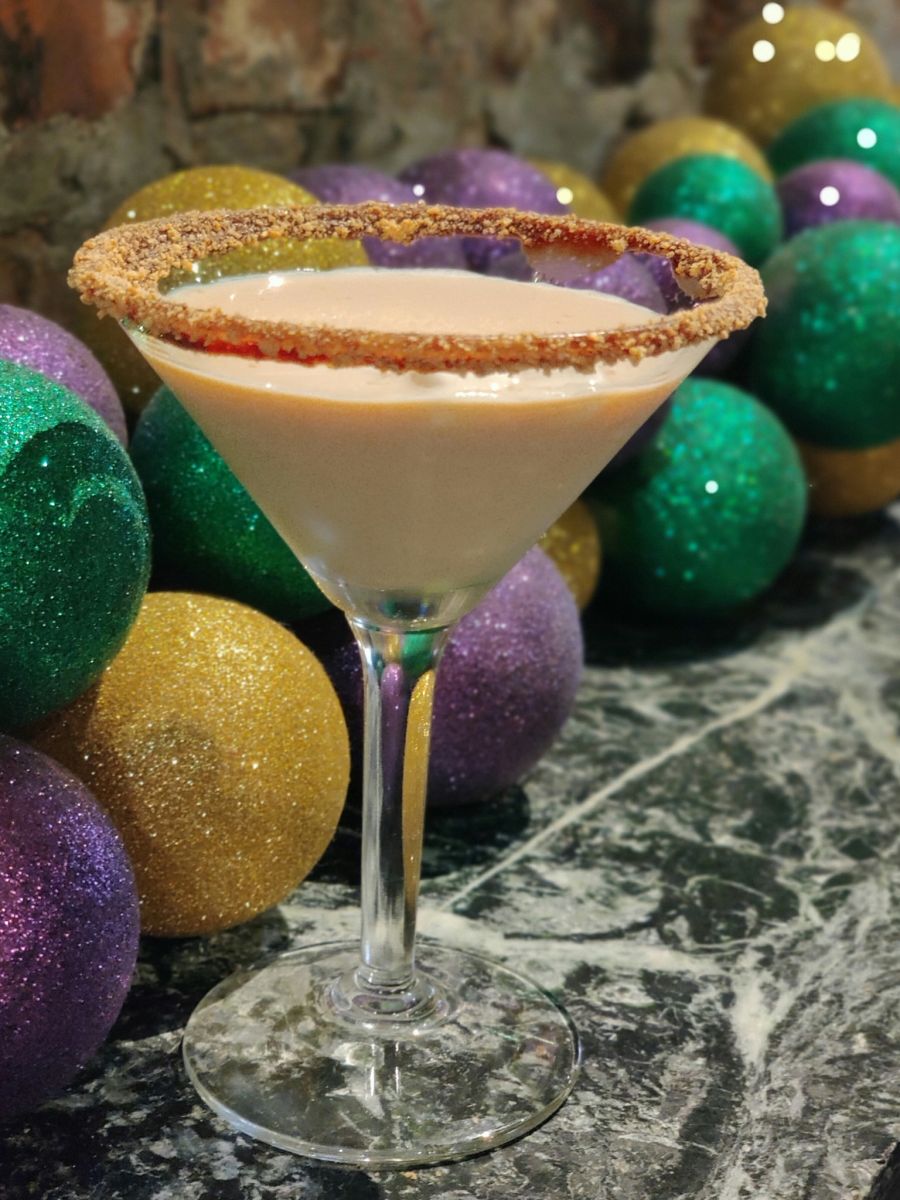 This Royal Street jewel is always ready to celebrate. This year, the Court of Two Sisters is offering both a King Cake Cocktail and a Moon Pie Cocktail in honor of those sweet little chooolate marshmallow frisbees we love to catch on the parade route. Head over there sooner not later.
Reginelli's King Cake Bread Pudding
Reginelli's Dough Whatcha Wanna Menu includes King Cake Bread Pudding served in a cast-iron skillet. They top it with Mardi Gras sprinkles and whipped cream for a festive flair.
Reginelli's King Cake Cocktail
Toast the royalty in your house with this fun cocktail made with Fireball, Rumchata, vanilla soy milk and cinnamon, topped with whipped cream and cinnamon crumbles.
Houmas House's King Cake Bread Pudding
This sweet concoction from Houmas House is fit for a sugar baron. When you're not on the parade route, hop the I-10 to Ascension Parish and check it out!
Where To Get Your King Cake On!
---
Make Restaurant Reservations HereView our Best of Guides