Best New Orleans Burger Guide
Fun Between the Bun
There's nothing like New Orleans seafood but sometimes you just need a burger, and New Orleans' finest restaurants don't disappoint. Check out our favs and prepare to pass the ketchup.
If you love burgers and golf, swing by Loft18, the premier indoor golf and social club in Old Metairie. Their Bourbon Burger is topped with Bourbon-infused onions, spiced black beans, fresh avocado, cheddar, Monterey and jalapeño – all dripping with house-made hickory sauce. It's so good you'll have no trouble making a hole in one (sorry).
The Cannon Hamburger Challenge can be summed up in three letters: OMG. The burger is comprised of seven patties, cooked medium well with cheddar cheese, tomatoes, onions, pickles with three fried shrimp on top, served with Cajun Hebert fries. If you complete the challenge, you eat for free (no sharing.)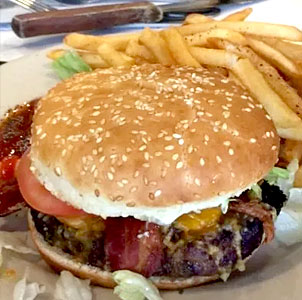 This Old Metairie restaurant has a Build-Your-Own Burger that gives new meaning to the phrase, "Have it your way." Along with lettuce, tomato and pickle you can have your choice of American, blue cheese crumbles, cheddar, Swiss and provolone. This places has a great Fried Green Tomato appetizer as well. That's what we like about the South!
Three More Serious Contenders
Port of Call
For more than 50 years, folks have been getting their burger fix at Port of Call, known for their huge, shredded cheese-topped burgers, served alongside a loaded baked potato.
Toup's Meatery
The only thing wrong with this burger is they only serve it at lunch. The burger here is a blend of beef and pork with cheddar cheese, bacon, pickled squash and herbed aioli on a sesame seed bun. It's melt-in-your-mouth fantastic. You'll be so glad you're not a vegetarian.
Camellia Grill
While the servers in the bow ties are charming, the real reason people line up to get in here is the cheeseburger, grilled up right before your eyes. If you can leave before sharing a piece of pecan pie, you're better people than we are.