Mulate's: A Little Piece of Cajun Country in New Orleans
At Mulate's, the Original Cajun Restaurant, they celebrate Cajun food, music, art and culture every day with all the warmth, creativity and joie de vivre the culture is famous for. A visit here is like a trip to Cajun Country. Every fiber of your being wants to shout Iyeeeeee!
The first thing you notice when you walk in the doors is the art work. This alone is a reason to come. The walls of this Cajun dance hall are lined with works from many artists, but their Rodrigue collection must be the best in the city. It turns out the founder of Mulate's grew up with Rodrigue. If you love Blue Dogs, Mulate's is a must.
The same is true if you love Cajun and Zydeco music. Mulate's has a live band and Cajun dancing every night. And if your two-step is a little rusty, someone there will be glad to give you a refresher course.
Let's get to the menu. The cocktails at Mulate's are wonderful. They're known for their Hurricane and Bloody Mary, but we highly recommend the Zydeco Tornedo, a yummy rum punch.
Their Cajun Old-Fashioned with orange bitters is fantastic as well and comes with a huge Mulate's stamped slow-melting ice cube. You can buy the mix in their little store upfront. Makes a great souvenir!
One of the most popular appetizers at Mulate's is the Gator and Frog Legs. It's like a swamp tour for your taste buds. Grilled not fried, it's absolutely delicious and it will give you plenty of storytelling opportunities once you get home.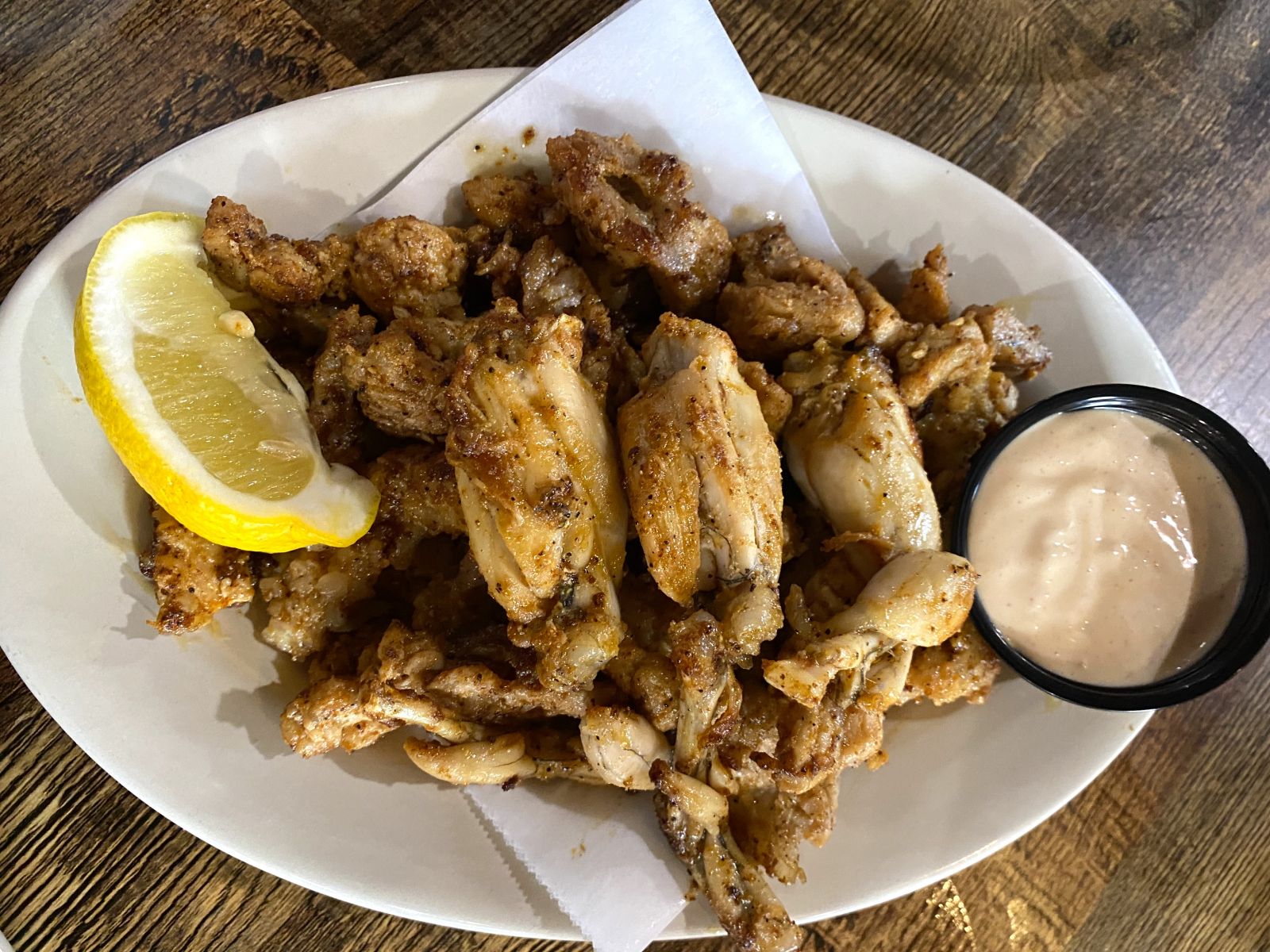 We also ordered Mulate's Fries with Roast Debris & Queso with Ranch. If you don't order this, you will live to regret it. Just sayin'.
We couldn't say no to the Lump Crab Beigents. Little puffs of heaven.
And we just had to have the Sweet Cornbread, too, because, well, you gotta have cornbread if you're going to have Cajun food, right? It was delicious and we devoured every bite.
The list of entrees on the menu is impressive. If there's any classic Cajun dish you haven't tried yet, you'll find it at Mulate's. Shrimp Etouffée, Gumbo, Red Beans & Rice, Fried Seafood Platters, Po-boys…they do it all deliciously and authentically. We tried the Chicken & Sausage Jambalaya (to die for).
And the Shrimp Étouffée is as good as our Cajun grandma used to make. Then we ordered to-go boxes because we had to save room for dessert.
We ended our meal with Nutella Créme Stuffed Beignet Bites — chocolate heaven. Cher…this is what life is supposed to be about.
If you're too full to handle dessert, take home a locally made Mulate's Bread Pudding-Scented candle. It's divine.
As far as we're concerned, a visit to Mulate's should be on every New Orleans itinerary. There's a picture of Bob Dylan hanging on the wall, commemorating one of his visits to the restaurant. Dylan once said, "There are a lot of places I like, but I like New Orleans better." Well, there are a lot of places we like but we like Mulate's better. Give it a try, cher.
Go to: Best of Guide Bread Pudding
Go to: Mulate's Sweet Potatoe Crunch Rccipe
---
Make Restaurant Reservations HereView our Best of Guides