Grand Isle Restaurant in New Orleans: The Culture and Flavor of the Louisiana Gulf Coast.
Grand Isle is a charming barrier island in the Gulf of Mexico, just two-hours from New Orleans. For those of us who grew up in the city, the words "Grand Isle" bring back magical memories of fishing camp getaways with our extended families and friends. These were days filled with fishing, crabbing, building sandcastles and taking long walks on the beach, and evenings spent playing Bourré, a Cajun card game, and then falling to sleep on the screened-in porch with all the kids scattered about in sleep bags. The memories treasure the most though are those of the family fish fries. Speckled trout, redfish, flounder, black drum, sheepshead, amberjack, wahoo, tuna, shrimp, crab…nothing ever tasted so fresh or so good. Those cherished memories and flavors come flooding back at Grand Isle Restaurant, a one-of-kind eatery on Fulton Street, steps from the casino and the convention center.
The walls of this delightful restaurant are lined with the stunning black and white photography of Fonville Winans who captured the beauty and culture of Grand Isle in the 1920s and '30s, but the first thing you see when you walk in is a beautiful marble oyster bar with a shucker, hard at work.
Next to that is a long mahogany bar where they serve up an array of spectacular drinks. including their signature cocktail, The Awakening, named after the Kate Chopin novel The Awakening, set in Grand Isle and New Orleans at the end of the 19th century.
This light, refreshing drink is made with Grey Goose Poire Vodka, Orange Flower Water, Simple Syrup, Fresh Squeezed Lemon, and Domaine St. Michelle Champagne. It will wake up your palate for what's to come.
We also shared sips of their Bramble and Mint Lemonade (yum!). And their mocktails are delicious, too. The house Passion Fruit Punch looks like a Grand Isle sunset and tastes like paradise.
But let's get to Owner/Executive Chef Jeff Hof's menu. We recommend you start with an order of Crawfish Beignets, made with crawfish, mascarpone, green onions and served with a wonderful lemon dill aioli. Like Mark our waiter said, "This is going to be the best thing you ever put in your mouth," and he wasn't wrong.
We also got to try their Jambalaya Cake, made with a brown Cajun jambalaya and topped with huge shrimp and a dark, rich brown sauce. The expressions on our faces said it all. This was heaven.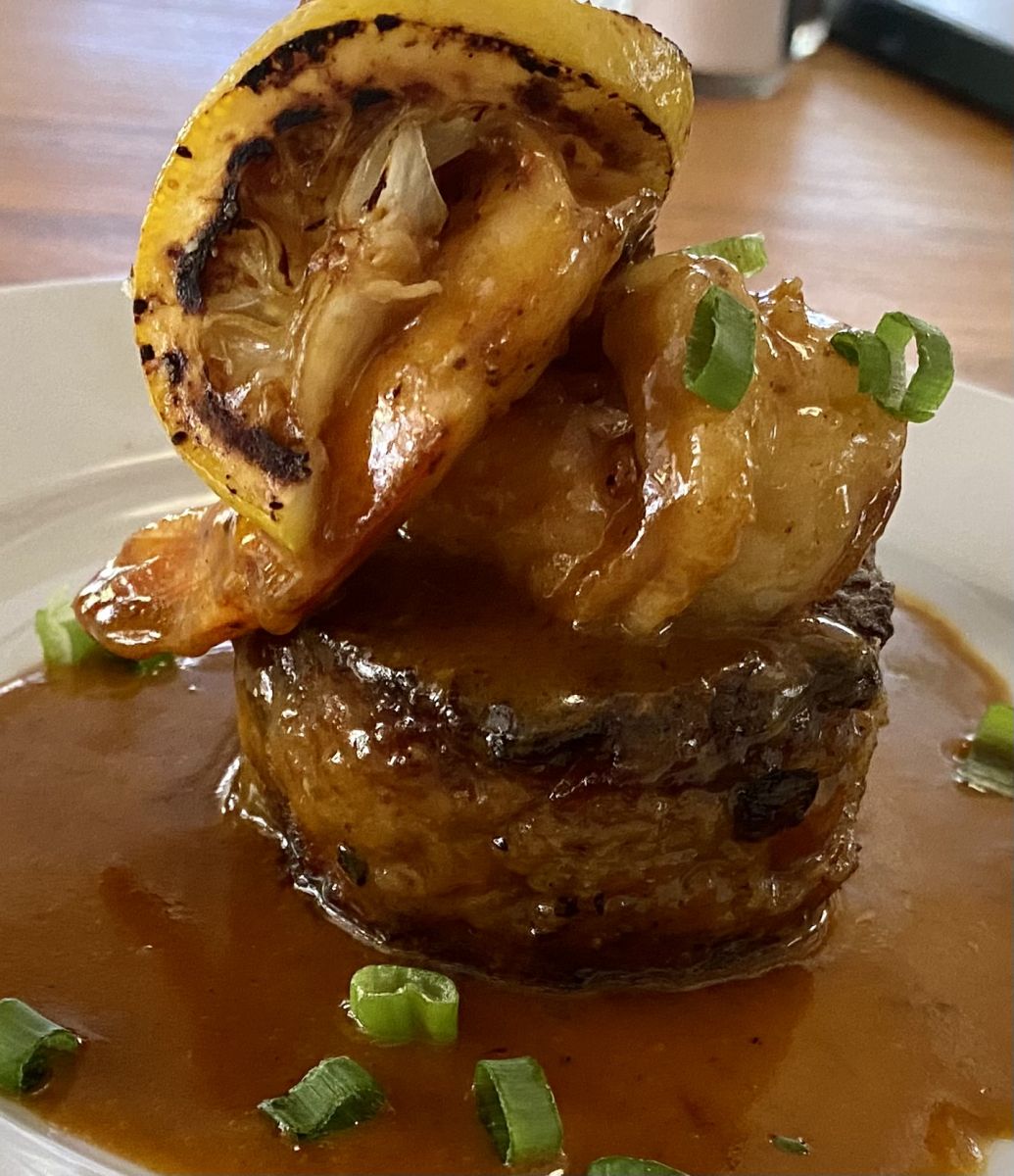 Next, we tried the mussels which they have sent specially to them from Canada's Prince Edward Island. They're prepared with fennel and garlic in a white wine broth and were absolutely phenomenal.
We followed that up with poached oysters – so good! They're served with homemade bread made in-house by their pastry chef so you can sop up every bit of the broth.
And finally, we were treated to one of their most popular dishes, Blackened Gulf Fish & Crawfish Tails in a cream sauce, served on top of sauteed spinach and a potato croquette. This dish is as good as anything you'll find in New Orleans and that's saying something.
For dessert, we couldn't decide between the White Chocolate Bread Pudding, topped with Angelo Brocato's vanilla ice cream, and the Lemon Ice Box Pie with a berry compote. We saw no way out of it so we ordered both. Worth. Every. Calorie. Needless to say, we left happy. You will, too.
Grand Isle is a spectacular place for lunch or dinner and should be on your radar for special events as well. There are tables outside and the gazebo on Fulton Street out front can be rented for bands. And their friendly staff will make your guests feel very welcome.
They're open Wednesday thru Sunday with a great Happy Hour Wednesdays and Thursdays from 4-6 p.m. Parking at Grand Isle is free in the casino garage. Visit their website.
---
Make Restaurant Reservations HereView our Best of Guides