New Orleans Restaurant Guide
Browsing:

Courtyards Restaurants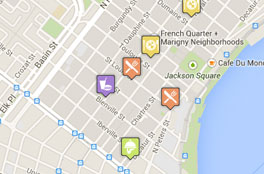 On a beautiful day in New Orleans there's nothing better than sitting outdoors and enjoying a gourmet meal surrounded by the sights and sounds of the city. Just imagine yourself surrounded by lush folliage with the sounds of trickling fountains floating through the air while you sip a cold drink and nosh on local fare from some of the best chefs in the Big Easy. Make this image a reality and try one of the restaurants below that offer al fresco dining.
Pricing:
American | Cajun | Creole | Seafood | Sunday Brunch
Houmas House doesn't feel like a museum but rather a grand old home – and that hospitality extends to meal time. You can dine at your choice of Café Burnside, The Carriage House and Latil's Landing, and enjoy a cool libation or a glass of wine at the Turtle Bar and the Wine Cellars. There's nothing like it on the Great River Road. And it's all just an hour from New Orleans!
Enjoy a festive Brunch at the picturesque Court of Two Sisters. Dinner features a four-course dinner and an a la carte menu, is also a wonderful French Quarter experience.
Pricing:
American | Contemporary | Creole
Takeout & Delivery
Bobby Hebert's Cajun Cannon, is unlike any other sports-themed restaurant. By combining Louisiana sports culture and authentic Louisiana food culture, Bobby created a venue that appeals to sports fans and foodies alike.
Pricing:
Po-boys/sandwiches | Seafood | Variety
Takeout & Delivery
In a town famous for great seafood, it's in a class by itself. Located in Metairie, Uptown, and the French Quarter, Deanie's has been recognized as one of New Orleans' best seafood joints since 1961.
Pricing:
Cajun | Creole
Takeout & Delivery
An authentic Creole and Cajun restaurant in the French Quarter, Iberville Cuisine has an exciting & welcoming atmosphere with an extensive menu.
Pricing:
Creole | Jazz Brunch
Takeout & Delivery
A favorite for visitors and locals alike, Commander's Palace is a New Orleans landmark known for its award-winning Creole fare and elegant jazz brunch.
Pricing:
Cajun | Creole | Po-boys/sandwiches
Coupon
Right on the famed Bourbon Street in the heart of the French Quarter, the Courtyard Bar & Grill at the Bourbon Heat offers casual dining, catering, private parties, and VIP bottle service.
Pricing:
Breakfast | Cajun | Creole | Seafood
Takeout & Delivery
Coupon
Steps from Bourbon Street, Oceana Grill's authentic Creole and Cajun delicacies, offers satisfaction for breakfast, lunch and dinner. Along with classic New Orleans dishes you have to try, their chefs can get pretty inventive (try the Redfish Oceana). And we think every meal at Oceana should be kicked off with a dozen raw oysters although some just can't say no to the Gator Tail Bites.
Pricing:
Cajun | Creole | Soul Food
Takeout & Delivery
Inside Dining Available
Tucked away on Causeway Boulevard in Metairie, just a short drive from New Orleans, Gumbo Stop features comfort food using locally grown ingredients for a delicious and refreshing taste. The restaurant serves freshly made award-winning gumbo daily along with other New Orleans favorites such as po' boys and red beans and rice.
Back to top