Tujague's: An oldie but a goodie for foodies.
In a city full of celebrity chefs, it's too easy to go home without experiencing the restaurants that originally earned New Orleans its reputation as one of the truly great food cities of the world.
We at NewOrleansRestaurants.com encourage you to resist the temptation to seek out only the trendy and visit Tujague's across from the French Market.
We can vouch for the fact that the city's second oldest eatery (Antoine's has it beat by 16 years) is as exciting today as it was when it wowed foodies on opening day 1856. Considering that nearly 60 percent of restaurants close their doors within three years of opening, you owe it to yourself to discover why Tujague's endures.
A little history for an appetizer: The Tujague's/Begue's connection.
In 1856, French Market butcher Guillaume Tujague and his wife Marie Abadie, recently of Bordeaux, France, opened Tujague's Restaurant on Decatur Street. There they served fine Creole cuisine (including their famous brisket) right on through the Civil War years. Sometime before Guilliaume died in 1912, they sold their restaurant to a Phlibert Guichet, the owner credited with creating the famous grasshopper cocktail. Learn more here.
Back then, one of Tujague stiffest competitors was Begue's, a few doors up Decatur. Begue's was owned by the legendary Madame Begue who is credited with inventing brunch. (They say she began the practice of serving a large mid-morning meal to accommodate hungry dock workers.)
After Madame Begue died, the new owner of Tujague's joined forces with Begue's employee Jean-Dominic Castet to buy out her restaurant as well. The two establishments become the new Tujague's, which continues to evolve today.
This is not your grandpere's Tujague's.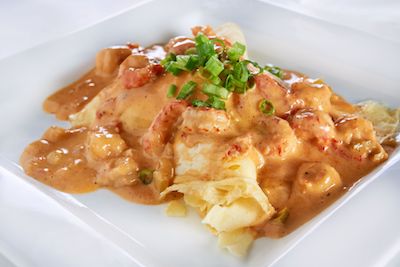 While you can still order the dishes that put the 161-year-old restaurant on the map, Chef Guy D. Sockrider, C.E.C. (see below) will tempt you with some new creations as well.
For an appetizer, we shared the Crawfish and Goat Cheese Crepes. One bite and we felt giddy with anticipation for the entrees to come. Dishes we sampled included the Abita Amber BBQ Shrimp and Grits (yum), the Louisiana Crawfish Hash with Crawfish Tails (double yum), and the Crème Brûlée French Toast, a dish that will cause your eyes to roll back in your head (they dip brioche in crème brûlée batter.) And, of course, we had to try the Boiled Brisket of Beef, the House specialty. It's fall-off-the-fork fabulous.
When you enter Tujague's you feel a little like you've stepped into Old New Orleans. For starters, the restaurant is home to the oldest standup bar in the city (the antique absinthe fountain behind the bar is a treat.) And the walls are covered with fascinating memorabilia.
Throughout the restaurant, you'll find cases filled with thousands of old liquor bottles – the size most of us associate with airplanes – from many different countries, some in amusing shapes.
Reserve Your Place in History.
Tujague's is open Friday (11 a.m. - 2:30 p.m.), Saturday (10 a.m. - 2:30 p.m.) and Sunday (10 a.m.-2:30 p.m.) for brunch. They are closed for lunch Monday through Thursday until September 4th.
Get Tujague's off your bucket list. Make reservations now.
About the Chef: Chef Guy D. Sockrider, C.E.C. is graduate of the Culinary Institute of America in Hyde Park and holds an additional diploma in Haute Cuisine from Dumas Pierre in Chicago. Over the years, he has overseen the kitchens at Gault Millau winner Top O' The Cove and Ralph Brennan's Jazz Kitchen in California, as well as Muriel's Jackson Square, The Royal Sonesta, The Bourbon Orleans Hotel, and Tomas Bistro here in New Orleans.
---
Make Restaurant Reservations HereView our Best of Guides