Do This Brew in the Vieux: Crescent City Brewhouse
Do locals eat in the Vieux Carré? You only have to dine at Crescent City Brewhouse to realize the answer is "yes." Should you come here if beer is really not your thing? Again, the answer is "yes." The French Quarter's only microbrewery is a microcosm of everything we love about New Orleans — the drink, the oyster bar, the food, the art and the music. And locals get that. This place is for locals but visitors are welcome!
Let's Talk Drink
Founded by German Brewmaster Wolfram Koehler, The Crescent City Brewhouse is a 17-barrel state-of-the-art brewery. Here world-class beer is brewed in small quantities according to the Bavarian Purity Law of 1516, using four natural ingredients: water, malt, hops, and yeast with no stabilizers or chemicals.
If you are a beer connoisseur, order a flight of 4, 5 or 6 samples. Order the house specialty, the Red Stallion, along with a Pilsner, an English Porter, the Weiss Beer, the Cold IPA and the Bamberg Rauch (the Weiss was our favorite.)
They also offer six Brewtails, your favorite cocktails made with beer. For instance, the Cajun Michelada is an inventive take on the Bloody Mary that replaces vodka with the house Red Stallion Beer. It's surprisingly delicious. And if that isn't enough, they offer an impressive wine selection as well.
Let's Talk Food
One bite from any appetizer or entree at Crescent City Brewhouse will confirm that food was no afterthought here. This is not brewery first, restaurant second. Just as much creativity and energy goes into the food as it does the drink.
We started with crabmeat hushpuppies (divine!) and some freshly shucked raw oysters (the best!) and then ordered several entrees and desserts to share. Suddenly dinner felt like a celebration.
The Brewhouse Ribs are really special — the sugar cane glaze rocks — and they're served with some truly decadent macaroni and cheese and house-made smothered greens. It's so good it will make your taste buds absolutely giddy.
They also do Shrimp & Grits extremely well at Crescent City Brewhouse. The shrimp were huge and fresh, the grits creamy, and they were topped with a light cream sauce and crispy onions. Delicious!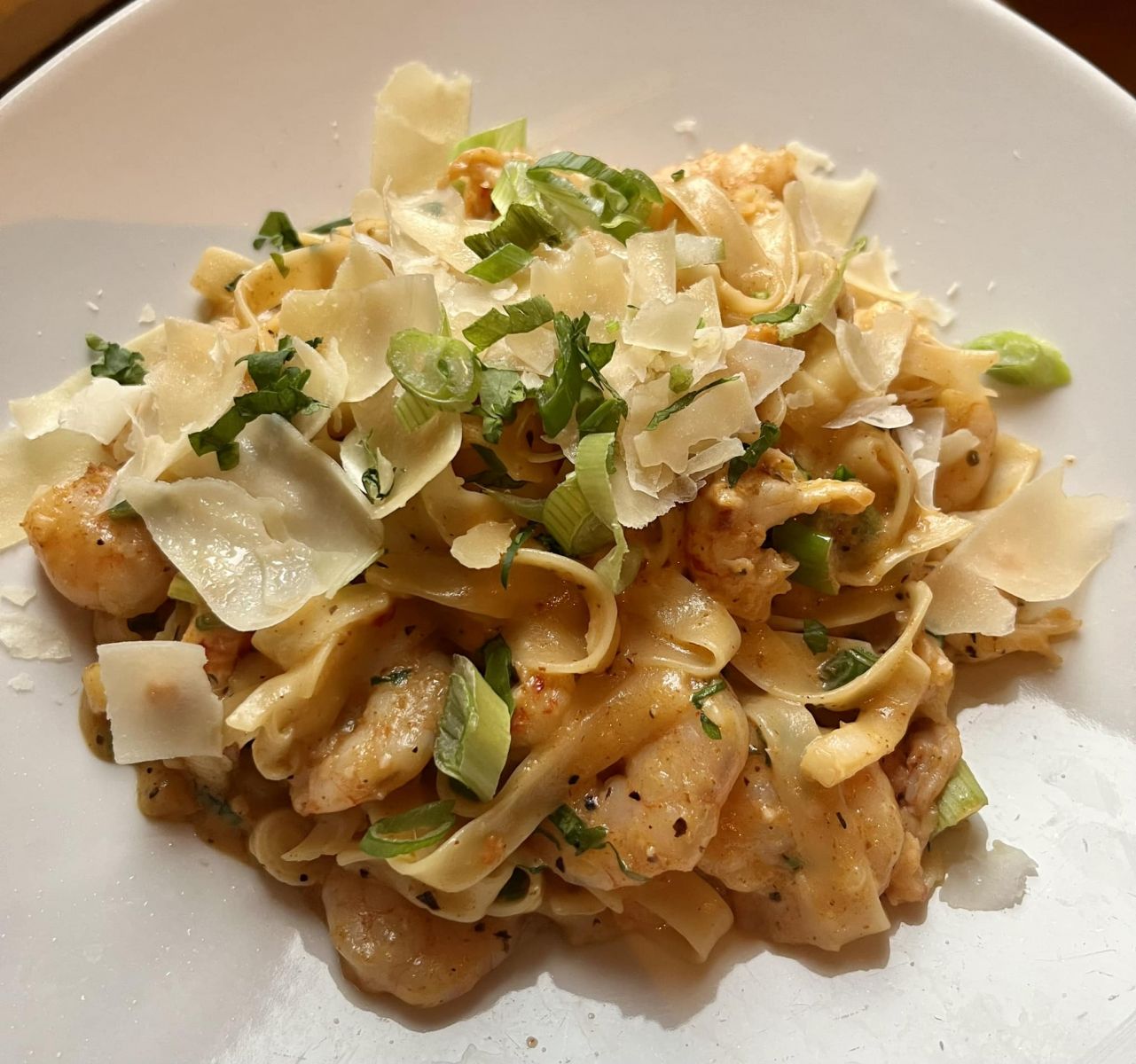 And since it was crawfish season, we felt compelled to order the Shrimp & Crawfish Pasta. Pasta lovers, you are in for a treat here. It's so good, you'll want to scarf it all down in one sitting but eat half and save the rest for lunch the next day (or breakfast –we don't judge). Just make sure you save room for dessert. We ordered the Crème Brûlée, the Dark Chocolate Mousse and the Hot Fudge Brownie a la Mode. Yum. Yum. Yum.
Ordinarily, we would have had to be rolled out of there but since there was live music, we chose to second line.
Let's Talk Music
The frustrating thing about music in New Orleans is a lot of it doesn't get going until late at night. At the Crescent City Brewhouse, you get to enjoy live music during dinner EVERY NIGHT OF THE WEEK. There's nothing like New Orleans cuisine with a side of jazz.
Let's Talk Art
The walls of Crescent City Brewhouse are lined with original art. Famous New Orleans musicians and scenes surround you while you eat and drink from their menu, which is a work of art in itself. The environment is fun and creative. The best of New Orleans surrounds you.
Let's Talk Special Events
Crescent City Brewhouse is an excellent setting for weddings, bachelor parties, reunions, and corporate events. The courtyard is absolutely lovely — a peaceful oasis in the middle of all the French Quarter excitement. There's also a balcony overlooking Decatur Street. This is where you want to be during Mardi Gras or on the Fourth of July when you can view fireworks over the river. Plus, there's plenty of parking across the street in the Jackson Brewery area, making it easy for visitors and locals alike.
Let's Talk Reservations
While reservations aren't required, if you have a larger party, they wouldn't hurt. Once you get a whiff of the food from Decatur Street, you won't want to have to wait any longer than necessary. Make reservations here.
Go To: Best Oyster Bars in New Orleans
---
Make Restaurant Reservations HereView our Best of Guides