'Taste of the NFL' is drumming up money to feed the hungry of New Orleans
October 10 2012 |
What's New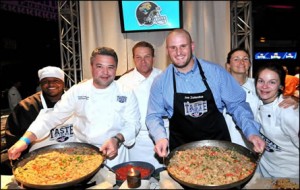 As we continue to count down the days until 'Super Bowl XLVII' comes roaring in to town, the NFL has launched a series of fundraising events in New Orleans intent upon feeding the city's hungry. Simply known as 'Taste of the NFL", the organization teed off with an informal soiree at 'SoBou' on September 23, leading up to the official event on February 2, 2013. Efforts are being made throughout the ongoing dinner series to sell plates to next year's bash. Tickets are currently going from anywhere between $600, and $7,000 for a VIP table. The 2013 event will be the 22nd party, and overall the event has raised over $14 million dollars for hunger relief.
The 'party with a purpose' is the only Super Bowl event where every NFL city is represented. Players and chefs from their respective locations will be on hand to prepare a dish for the occasion.  Also on hand will be over 300 volunteers, including 150 students from the culinary programs at Delgado Community College and the John Folse Culinary Institute at Nicholls State University.
The next event is Tuesday, Oct. 9 at Irish House Pub, a $55 ticket, followed by a four-course dinner of signature cuisine ($95) at Galatoire's on Oct. 15.
---
Make Restaurant Reservations HereView our Best of Guides