Tales of the Cocktail Celebrates a Decade of Drinks
July 23 2012 |
What's New
Everyone's favorite celebration of cocktail culture begins today in New Orleans! This summer marks ten years that Tales of the Cocktail has educated and entertained New Orleanians and out-of-town visitors with history, tastings and recipes by the world's foremost mixologists.
Competitions, seminars, cocktail dinners and demonstrations all play a part in Tales of the Cocktail, and events take place throughout the French Quarter over the four-day program, July 25-29.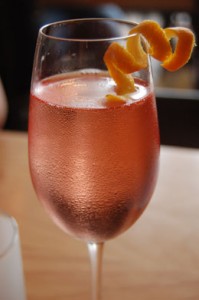 Here's a little taste of the liquor learning you might imbibe:
The origins of the word "cocktail" are disputed, but a common theory is that the term is descended from the French coquetier, or egg-cup. This makes sense, since one of New Orleans' claims to fame is the invention of the first cocktail! In 1795, pharmacist Antoine Amédée Peychaud whipped up a batch of brandy toddies for guests, spiking them with his own brand of bitters. Peychaud's bitters are now an integral part of America's oldest cocktail: the Sazerac.
Each year, Tales of the Cocktail holds a contest to choose the event's official cocktail. This year, Dominic Venegas of NoMad Hotel in Manhattan took top honors with his "Rum Row" Old-Fashioned. If you can't attend this year's Tales of the Cocktail, mix up a taste of its official drink instead.
Dominic Venegas' "Rum Row" Old-Fashioned
1.25 oz. El Dorado 12 year old Rum
.75 oz. Bank's 5 Islands Rum
.25 oz. water
1 barspoon (tsp) of Muscovado sugar
1 dash Angostura orange bitters
1 drop Bittermens Burlesque Bitters
Navel orange peel, squeezed over and dropped in
Directions:
Place 1 barspoon of Muscavado Sugar in an Old Fashioned glass. Drop orange and burlesque bitters in sugar, add .25 oz. water, and add 3-4 cubes of ice. Stir for about 5-7 seconds. Pour in .75 oz. Bank's 5 Islands rum and 1.25 oz El Dorado 12 year old rum. Garnish with a Navel Orange peel.
Cheers!
---
Make Restaurant Reservations HereView our Best of Guides