New Orleans Restaurant Spotlight: The Pelican Club
June 27 2012 |
What's New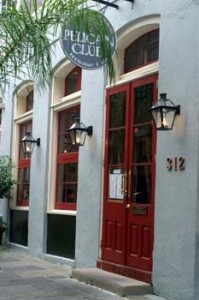 Tucked cozily into Exchange Place, the Pelican Club runs the risk of being overlooked by the casual observer. That would be a mistake--this French Quarter gem has been cooking up classic and creative Creole/Acadian dishes for over 20 years, and enjoys a devoted local following as well as praise from food critics and out-of-town visitors.
In 1990, chef/owner Richard Hughes and wife Jean lovingly restored a 19th-century Vieux Carre townhouse into the Pelican Club's three tasteful, elegant dining rooms and generous bar, incorporating thoughtful details like burnished Louisiana cypress accents and luxurious leather banquette seating. Once its atmosphere was established, the Pelican began serving the signature dishes it's known and loved for: the Paneed Gulf Fish topped with Crawfish Etouffee and Jalapeno Hollandaise and buttery Pelican Club Baked Oysters are longstanding favorites. Not restricting its menu to Creole cuisine, though, the restaurant also experiments with Thai, Vietnamese and other Asian flavors "that everyone likes," says Hughes. In 2005, Hughes' brother David joined the Pelican Club as sous chef.
With the Pelican Club's pastry chef, Claudette Jones, crafting decadent delights like Bourbon Pecan Pie served with vanilla ice cream, and Vanilla Bean & Brandy Creme Brulee, your second mistake would be to fill up before dessert. Save room as well for the generous wine list, featuring almost 200 vintages from France, Italy, California, and more of the world's most renowned wine destinations.
Summer Special
Starting July 16, the Pelican Club will participate in COOLinary New Orleans, offering a three-course prix fixe menu at only $35 plus tax and gratuity. If it's not obvious by now, we'll tell you: your third mistake would be missing out on this tropical-weather treat.
With a generous number of options for your appetizer and entree, including a refreshing Jumbo Shrimp and Avocado Ravigote, the aforementioned Pelican Club Baked Oysters, Thai Curry Gulf Shrimp with coconut milk and lemongrass, and even a whole 1-pound lobster (add $7), the Pelican Club couldn't make it any easier to sample their menu. Though you'll be stuffed, we suspect you'll want to manage at least a taste of dessert--choose from White Chocolate Bread Pudding, the signature Vanilla Bean & Brandy Creme Brulee, and the fruity Raspberry Sorbet with Berries.
COOLinary officially ends August 31, but look out for dishes with staying power (like the Curry Shrimp)!
---
Make Restaurant Reservations HereView our Best of Guides