New Orleans Craft Beer For Connoisseurs
November 2 2012 |
What's New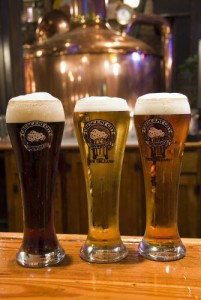 Beer connoisseurs, did you know that downtown New Orleans has not just one, but two breweries that make their own beer in addition to serving great tasting food. We're not talking cheap, generic beers either. We're talking hand crafted beers brewed in-house.
Located in the French Quarter is the Crescent City Brewhouse. In-house they brew a number of beers including a Pilsner, their Red Stallion (a Vienna style lager), Black Forest (a Munich style lager), a Weiss Beer and a special brew featured each month.
They brew all of their beer in their state of the art 17 barrel brewery, but follow the 1516 Bavarian Purity Law which allows only four ingredients: hops, malt, water and yeast. No additives, no chemicals.
Stop by and try a pint along with dinner or you could even have your next group event there. Did I mention that they also feature live music every night performed by local musicians?
Located on the other side of Canal Street is Gordon Biersch in the Central Business District. At Gordon Biersch you can try their Golden Export (a light, refreshing lager), Hefewizen, Czech Pilsner, Marzen, Schwarzbier and a rotating seasonal tap.
They brew their beer on site using ingredients like Weyermann malt and Hersbrucker hops imported from Germany.
In addition to their beer, they make their food from scratch and have a number of giant televisions to watch the big game.
If you're out in on St. Charles Avenue, you may want to check out Zea Rotisserie & Grill. They don't brew their beers in-house, but they do brew their own beers at their Covington, LA brewery.
That's just a handful of the great restaurants that serve craft beer in New Orleans. What's your favorite?
---
Make Restaurant Reservations HereView our Best of Guides