Chef Ron Puts the Oh! In Gumbo
March 25 2022 |
What's New
From Rhode Island to the Cradle of Creole Cooking:
Meet Chef Ron Iafrate
True: The New Orleans area is filled with world-famous restaurants. Also true: some of the best restaurants are located outside the French Quarter, and they serve the kind of food locals enjoy most because the menu includes iconic Louisiana dishes "just like my mama used to make."
Chef Ron's Gumbo Stop is an establishment that falls into the latter category.
Located 16 minutes from the Vieux Carré on the service road just off Causeway Boulevard in Metairie, the Gumbo Stop's walls are lined with culinary awards, original artwork, and dollar bills from almost every state in the union. The art, like the ingredients in Chef Ron's award-winning gumbo, is all locally sourced but, we know it's hard to believe, Chef Ron is not locally sourced himself. He grew up in Rhode Island where he knew from an early age that he wanted to be a chef.
"I'd start out helping my dad with a project, but I wasn't the handiest guy with a toolbox," he said with a laugh. "Turns out, I made a lousy assistant, so he'd always end up sending me back to help my mother in the kitchen where I'd watch her make, among other things, her pepper biscuits."
Chef Ron went on to graduate with a culinary degree from Johnson and Wales University. He was introduced to Louisiana cooking at the Rhode Island's Cajun Acadia Festival as a young man. Then, while working as an executive chef in a hotel in Tallahassee, Florida, he was offered a position in a major hotel in New Orleans.
"What chef would not jump at the chance to work in New Orleans, the cradle of Creole cooking?" Chef Ron wants to know. The rest is culinary history.
In 2010, Chef Ron was named Chef of the Year by his peers at the American Culinary Federation, New Orleans Chapter. He also came in first at Louisiana's 2010 Gumbo Cook Off. Then, in 2012, his dream of opening his own restaurant came true. Instead of being just one great restaurant surrounded by many, he chose to open his doors in Metairie, in a location surrounded by five hotels and lots of neighborhoods with hungry families. It was the right call. One year later, he was named one of the 25 Best Chefs of Louisiana by a selection committee that included — get this – legends Paul Prudhomme, Frank Brigtsen, Susan Spicer and Tory McPhail.
Today Chef Ron's Gumbo Stop is famous for inventing the Stuffed Gumbo (as far as he knows, it all started here). The "Original Stuffed Gumbo" is Chef's Mumbo Gumbo (a filé gumbo with chicken, shrimp, crabmeat, crawfish, sausage, okra and tomato), topped with Fried Catfish. But you can also order versions topped with fried shrimp or fried oysters (pictured above) or shrimp, oysters, and catfish! We highly recommend the Gumbo Monceaux, the Mumbo Gumbo with poached egg served over potato salad. TDF. Chef Ron's customers are also crazy about his Boudin Balls.
And they rave about his Jefferson Sauce, served in many ways, including over Fried Green Tomatoes (pictured below). Yummmm.
"What's better than cream and garlic?" Chef Ron asked.
Chef Ron's Italian roots have also found their way onto his menu. We're convinced his Spaghetti and Meatballs is the best this side of Palermo, and his Shrimp Scampi is a popular favorite as well.
Chef Ron has been quoted as saying, "You don't make a gumbo, you build a gumbo." When asked for clarification he said, "When you make something, you just mix all the ingredients together. When you build something, you put them together at just the right time, until they come together perfectly to create your final product."
When asked how long it takes to make his gumbo, he answered, "I have a low-and-go gumbo and then I have a hurry-up-and-go gumbo. Both are delicious but the hurry-up-and-go gumbo doesn't require hanging over the pot. It frees you up to do other things in the kitchen."
So how much gumbo does Chef Ron serve in a year? we asked. While he couldn't give us a definitive number of cups, he could tell us that last Christmas during the pandemic, they sold 100 gallons of gumbo.
Guess that's the Louisiana version of chicken soup. In a hard time, gumbo makes everything better. Especially when it's from Chef Ron's Gumbo Stop.
Other Stuff We Thought You'd Like to Know:
• Chef Ron is a member of the Krewe of King Arthur, a co-ed Mardi Gras krewe in New Orleans. (No, he doesn't recommend eating his gumbo out of a hand-decorated grail.)
• The best compliment Chef Ron gets is, "It tastes just like my mama's."
• For the record, Chef Ron isn't one of those guys who is happy in the kitchen. He likes to come out and meet his guests in person. "I like to know who I'm cooking for," he said.
• According to Chef Ron, there is no "Gumbo Season," any more than there's a spaghetti and meatball season. "We eat warm foods year-round and that includes gumbo," he said.
• Chef Ron is a big believer in supporting the community, but he does it on the downlow. "I don't need a camera in my face," he said.
• The Gumbo Stop is not open on Sundays and Mondays, but they serve a mean Red Beans and Rice so many just wait until Tuesday for their fix.
• Catering weddings and other events is a huge part of Chef Ron's business as is private parties. Their new new back patio is the perfect place to host a bachelor/bachelorette party, shower, team outing, family reunion, or business event. You can even have a crawfish boil there. Call 504.232.4195 for details.
• You can get home delivery from Chef Ron's through an arrangement with Metry Cab. Just call 504.835.2022 and they'll get it to you hot.
• Don't pass up a chance to order his Bread Pudding. Just sayin'.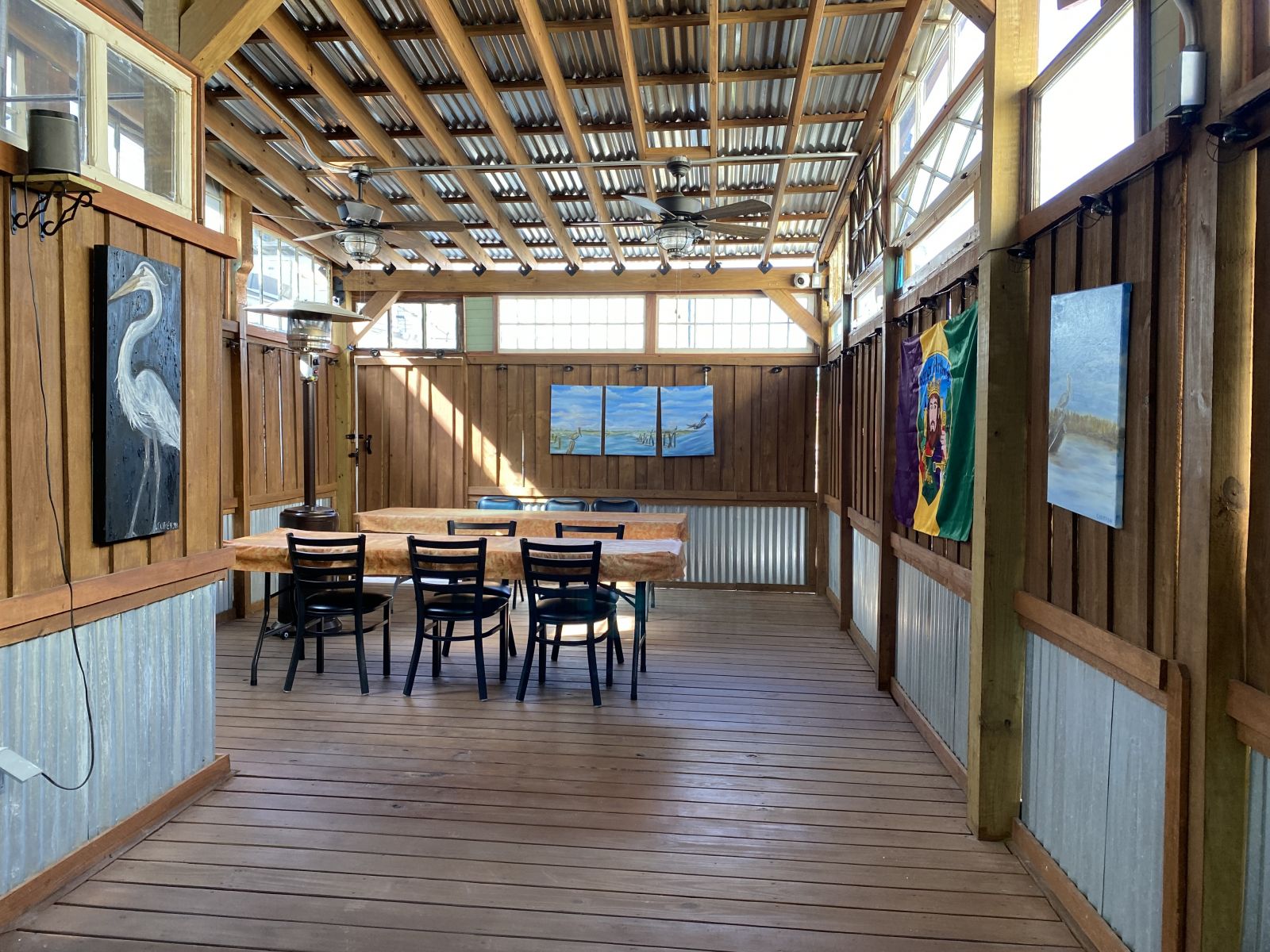 View Chef Ron's Gumbo Stop Menu
---
Make Restaurant Reservations HereView our Best of Guides