Sweet Potato & Tasso Soup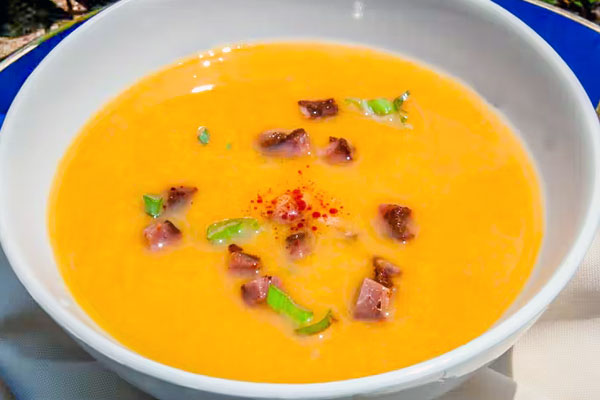 Prep Time:

Cook Time:

Total Time:

Yield:

12 servings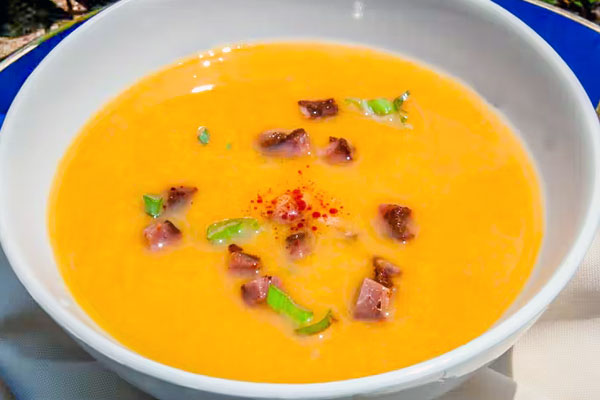 Every Thursday at noon, Chef Jeremy Langlois of Houmas House Estate & Gardens cooks up a fun recipe live on Facebook and Instagram. Since we've been experiencing a little cold snap, this recipe from Chef Langlois for Sweet Potato & Tasso Soup just seemed to be calling our name. We hope you enjoy it as much as we did.
Ingredients:
4 tablespoons of butter
1 cup diced onion
1/2 cup diced celery
1/2 cup diced bell pepper
1/4 cup minced garlic
2 quarts chicken stock
3 cups peeled sweet potatoes, cut into 1/2 inch cubes
1/2 lb. of tasso, cut into 1/2 inch cubes
Pinch cinnamon
Pinch nutmeg
1/2 cup chopped parsley
1 cup heavy whipping cream
Salt and pepper to taste
Instructions
In a heavy bottom pot melt butter over medium-high heat.
Add onions, celery, bell pepper, and garlic and sauté until the vegetables are translucent and tender.
Add chicken broth and sweet potatoes and bring soup to a simmer.
Cook for 15 minutes or until the sweet potatoes are fork tender.
When sweet potatoes are tender, puree the mixture in batches in a food processor.
Return to the pot and add tasso, cinnamon, nutmeg, and parsley.
Simmer soup for 20 minutes to allow flavor to come together.
Add more broth or water if necessary to make a velvety smooth consistency.
Add heavy cream and season to taste with salt and pepper.
Serve hot in soup bowls.
Photo Courtesy of Houmas House